The London Freee Press, James Reaney
London reed player and singer Chris Murphy says he's sometimes asked why he doesn't do more jazz gigs. No worries on that score this week and early November. Murphy plays Wednesday's Jazz for the People gig at the LPL's Wolf Performance Hall, fronting an all-star lineup. It is one in a number of jazzy gigs around London.

"These guys are great musicians and they really make me look good," Murphy says of the quartet - billed as the Sandy MacKay Band - backing him. "(We'll be) performing mostly New Orleans jazz and three or four of my original jazz tunes." Series artistic director is MacKay, a longtime London drummer, who keeps time at all the gigs in this selected listing. Joining MacKay and Murphy are guitarist Teddy (Ted) Leonard, bassist Colin Stewart and pianist Don DiCarlo. Murphy plays soprano and tenor sax and clarinet. He also sings. Murphy then leads a quintet at the London Jazz Society's Nov. 6 gig. MacKay, Stewart and DiCarlo are back from the Wolf, with John Kenny set to join on guitar.

Meanwhile, the two women who sing in the award-winning jazz vocal quartet After Four step out as a duo this week. Jenny Nauta and Theresa Wallis co-headline at the opener 15th season of the Jazz by the Bog series. Wallis and Nauta will spice the program with hits from the Sergio Mendes (Brasil '66, Brasil '77) songbook. Expected are such selections as Mas Que Nada, The Waters of March and The Look of Love. Backing them are MacKay, percussionist Rob Larose, keyboard players Ron Nauta (also an After Four vocalist) and Bryan Gloyd and bassist Larry Ernewein.

The 2016-2017 season for Jazz by the Bog continues with the Uptown Dixieland band (Jan. 27) and an outfit teaming keyboard player Steve Holowitz and trumpeter Paul Stevenson (April 28).

JReaney@postmedia.com
He's hotwired for blues back
The London Free Press, Monday, October 10, 2011
James Reaney
After 40 years as a pro, London sax player and bluesman Chris Murphy knows how to drive a party -- and an album.

"I describe my music as 'Saxophone Driven Party Music,' " Murphy says. He launches his new album Hotwired at Aeolian Hall on Saturday night.

A singer and multi-instrumentalist, Murphy plays alto, tenor and baritone saxes, flute, clarinet and Hammond organ. He has been fronting his own bands since 1985.

Expected to join him on Saturday is UWO grad and Hammond B3 keyboardist Lance Anderson, who will also play piano. London-region players Teddy Leonard (guitar), Ryan Spong (bass), Tim Tyler (drums) and Marty Verweel (trumpet) are also in Saturday's band.

A mix of originals and classy covers, Hotwired is Murphy's third solo album and his seventh recording as a bandleader. At other stages in his career, Murphy often performed acoustic jazz with his quartet, the Forest City Jazz Band and the Phil Murphy Big Band. (He's the son of London Music Hall of Famer Phil Murphy).

"I have always performed good-time party music and I don't apologize for that," Murphy says.

That has never kept Murphy from finding blues with a feeling - or a message.

"One of the tunes on the Hotwired CD is called Money's Getting Cheaper," he says of a tune tied to 1930s' blues players Jessie Mae Robinson, credited with co-writing the Jimmy Witherspoon hit.

"Her lyrics are still relevant today. She has a great line: 'I can't afford to live, I guess I'll have to try, the undertakers have a union and it costs too much to die.' "

Murphy began playing clubs when he was 17 and has seen many changes in London music over the decades.

"Thanks for reminding me. Yes, I have been fortunate to be a professional musician for 40 years," Murphy says.

"I think it is harder for young musicians today to get enough experience on stage to really develop their skills. There were a lot more venues in the 1970s and a lot more people went out to see live music regularly."

Murphy has found younger audiences for his blues message. In 2005, he began leading his 'Blues in the Schools' band for pupils and students in the London region. Three years later, he started teaching instrumental music part-time at Matthews Hall, a private elementary school in London.

Murphy is also writing a book of etudes for young musicians who are trying to learn to play the blues.



---


The sax man cometh back The Londoner Magazine, Monday, October 10, 2011
Chris Montanini When he heard the recording studio at Canterbury Music Company in Toronto was becoming more accessible, local blues saxophone player Chris Murphy jumped at the chance to experience that large studio sound again.

"I used to do a lot more work in studios 20 years ago," Murphy said. "(Last year) was my first time (in the Canterbury studio) and it was big.

"For some reason, and I don't know why, when you have 20-foot ceilings, you get a little deeper, richer sound onto the recording. Hopefully you can hear that when you listen to it."

Recorded last year, the finished product, Hotwired, will be available at a release party this Saturday at Aeolian Hall.

Although Murphy took the opportunity to record in a traditional studio as opposed to the home studios that are becoming so popular, the tracks he put down will sound familiar to fans who enjoy the toe-tapping party blues Murphy is known for.

"I would say it's more of a consolidation of what I do," he said. "It's kind of party blues music, so that's what I've sort of been doing for a long time."

With six original tracks and six covers, Murphy's third CD, seventh as a band leader, shoots out of the gate with high tempo classic blues fused in some cases with a little funk and rock for good measure. Tunes like Bitchy Woman and Sure Looks Good to Me won't hit hard lyrically, although they're still a lot of fun. But Murphy's top-notch sax playing shines brightly and sounds particularly crisp on the professionally recorded album.

Hotwired was produced by keyboardist Lance Anderson and also features Garth Vogan on bass, Tim Tyler on drums, Howard Moore on trumpet and some great guitar playing by London's Teddy Leonard and Canadian blues mainstay Jack de Keyser.

"The best thing is, all the guys on the CD, we've all been friends for a long time," said Murphy, an 11-time Maple Blues Award nominee himself who toured with de Keyser from 2004 to 2009.

As for the covers, Murphy — who you can still hear with The Village Blues Band on Sunday afternoons at the Wortley Road House — stayed away from the beaten path. Funkalishus by Blues ­veteran Dr. John is one example.

"Whenever we play it, nobody's heard it before and most of the covers are like that,"

said Murphy, adding he has a connection to each of the songs he chose, like Money's Gettin Cheaper, one from the thirties he was listening to before he played in his first blues band. "There has to be a certain believability, you have to believe in it. Nobody really wants to go see somebody sing a song they don't believe in."

The new album will be available Saturday at Aeolian Hall, where audience members will also get a taste of some acoustic blues.

"It's a great place to release a CD," he said. "Even though we'll still do some of the entertaining stuff, some of the blues party music, there's some songs we can do when we have a big acoustic piano and when we have the right setting. There's some stuff we can do at Aeolian Hall we couldn't do at a bar show."



---


Hotwired Review back Maple Blues Magazine, Toronto ON, October 2011
John Valenteyn Chris Murphy is the baritone sax player in the Maple Blues Band, a credit I'm rather attached to but he does a great deal more than that. From his London base he tours Ontario and far beyond as a band member, session musician, arranger, booking agent and label owner. And occasionally he puts out a CD under his own name. Backing him this time is a who's who of the blues community and the strength of this disc comes from all the years and miles these players have gone through. Murphy is also a treasure trove about things saxohone, a student of its entire history and of the various playing styles. His songs bring all this to the forefront: shuffles, straight ahead rocking blues, low down dirty grinds and urban funk await you as you slip this into your player and the highlights are many: "Something Else (is going on)" starts the program, a Darrell Nulisch grinder that sets the tone perfectly. Murphy is not nearly as good a singer as he is a sax player but he knows that and chooses songs accordingly. Former employer Jack de Keyzer contributes a fine solo. "Hotwired" is exactly the instrumental you'd be expecting and he does not disappoint, with a roaring solo, a topflight horn arrangement and solos for Teddy Leonard on guitar and producer Lance Anderson on organ. Garth Vogan is on bass & Tim Tyler on drums to round out the basic band. Howard Moore on trumpet joins Murphy for the horn parts. Amoy and Ceceal Levy handle the background vocals. "Burnin' Rubber" is a fifties-styled rocker that finds Murphy blowing like hell, with Lance on piano right there with him. A final highlight is the closing instrumental, a Murphy original, "Tain't No Church Song" with a gorgeous melody. Murphy is up first, then Lance and Teddy before Murphy takes it our - marvelous stuff. .



---


Singing the Blues back The Londoner Magazine, Thursday, December 9, 2010
Chris Montanini Local blues veterans Chris Murphy and Ted Leonard are both nominated for Maple Blues awards this year.

One hasn't been nominated indivually since he took home guitarist of the year in 2000, and the other has been nominated 10 of the last 11 years without winning.

But both London blues veteran Ted Leonard and Chris Murphy are hoping to be recognized at this year's Maple Blues Awards in Toronto after receiving nominations for horn player of the year and guitarist of the year respectivevly.

"It's nice. There are lots of worthy people and they all have to get their turn," said Leonard, who also has some awards as a member of Canadian blues band Fathead.

10 years is a long time though.

"As far as this award goes, I'd be a total liar if I didn't say I want to win it," he said with a smile. Leonard was busy this year in between his usual Sunday gigs with the Village Blues Band at the Wortley Roadhouse, which Murphy is also a part of. "I've played on a few records this year and did a lot of touring," Leonard said. "I think that gets you a bit more national recognition." "He's recorded and released an album with Fathead (their seventh) and was working on lead singer John May's solo CD last week, Leonard is also featured on Porkbelly Futures new album and Murphy's new CD, due out in Januarty, to name a few.

Despite a plethora of nomination but no hardware, Murphy said the Maple Blues Awards have been an important venue for him. "Quite truthfully...it would be nice to win but having been nominated, especially the first couple of times I was nominated, really opened doors for me," he said, adding the recognition of players from London is also good for the blues scene here. "We just had a really terrific piano player from Alberta play with us on a Sunday and you could argue that it might not have happened if we hadn't raised of profile." as well as working on his new album, which he said has nine tracks finished at this point, Murphy has also been teaching instrumental music at Matthew Hall elementary school since 2008.

Both musicians have been playing together on and off since a show in 1979. As well as their weekly performances, Leonard and Murphy also started visiting area schools after starting "Chris Murphy's Blues in the Schools," in 2005. "You couldn't find a better audience than to play for a bundch of school kids a 10 o'clock in the morning," Leonard said.

---


Village Blues Band - Live At the Wortley Roadhouse back Richard Young, Artscape Magazine April 20/09 "Our Top Ten CD List" includes
"Village Blues Band
Live at the Wortley Roadhouse" (Indie)
myspace.com/thevillagebluesband
Recorded live in the friendly confines of London's Wortley Roadhouse in April 2008, the indie CD Live at the Wortley Roadhouse is the next best thing to attending one of the Village Blues Band's weekly Sunday afternoon matinees at the venerable watering-hole. Fronted by sax-man extraordinaire, Chris Murphy, the veteran six man line-up take listeners through a repertoire of 10 R&B/Blues standards, including a couple of original tunes. Band members include guitarist Ted Leonard; tenor/alto sax-man Troy Neeb; drummer Ted Peacock; bassist Ryan Spong; and trumpet-player and "Wort" co-owner, Marty Verweel. From the infectious funk of opening cut, "Wortley Stomp," penned by Neeb to Verweel's vocals on the blues shuffle "Buzzard Luck," and Murphy's comical lyrics on "Bitchy Woman Blues," this CD will have listeners dancing in their living-rooms after cracking open their favourite cold one. Better yet, it may even inspire them to take in one of the band's live Sunday afternoon performances.
Engineered and mastered by industry veteran, Nick Blagona, Live at the Wortley Roadhouse, was selected as one of the Top 10 CD Releases of 2008 by the London Free Press, an honour well deserved.
---


Arts and entertainment columnist James Reaney whittles a wide field of great London music down to 10 tough choices back James Reaney, THE LONDON FREE PRESS December 20 , 2008 "Our Top Ten CD List" includes
"Village Blues Band
Live at the Wortley Roadhouse" (Indie)
myspace.com/thevillagebluesband
"It takes a band of veterans to have this much fun and sound deceptively easygoing about it. Every year, I wonder why Bluesfest doesn't get some horns up there to go with all the endless guitars. Troy Neeb's Wortley Stomp, the opener here, shows what they're missing. A bunch of funny and funky songs follow. Some like 25 Miles and Jesus on the Mainline have been around. Engineer Nick Blagona does an outstanding job in giving the fun an edge."
---


Londoner up for national horn honour back

Chris Murphy joins the late Jeff Healey as a nominee, along with pianist Julian Fauth and veteran act Downchild
Kathy Rumleski, THE LONDON FREE PRESS October 30 , 2008
Londoner Chris Murphy has been nominated for a Maple Blues Award, an annual honour recognizing excellence on the Canadian jazz scene.

His nomination comes in the category of horn player of the year.

Murphy joins the late Jeff Healey as a nominee, along with pianist Julian Fauth and veteran act Downchild, who have four nominations each.

Members of the Jeff Healey Blues Band are collectively up for seven trophies.

Murphy, who heads the Chris Murphy band, won a Jack Richardson Music award earlier this year and he was the first recipient of the Jimmy Lewis lifetime of blues award in 2003.

This year Murphy has been involved in CDs by The Village Blues Band, Jack de Keyzer , Big Gilson and the Maple Blues Revue, playing saxophone , writing horn arrangements or singing.

His third CD will be released in December.

The annual Maple Blues Awards will be handed out January 19 in Toronto.

Nominees are selected by a panel of Canadian experts and fan voting decides the winners.

Voting begins Saturday at www.mapleblues.ca

---
KICKIN' THE BLUES: back
THE VILLAGE BLUES BAND WILL DEBUT THEIR NEW CD AT THE WORTLEY ROADHOUSE ON OCTOBER 26, 4:00 P.M.
Scene Magazine — October 23, 2008
For the past four years The Village Blues Band has been rockin' Sunday afternoons at the Wortley Roadhouse. This all-star band features the talents of Ted Leonard (guitar/vocals) , Chris Murphy (saxophones/vocals) , Troy Neeb (saxophones) , Ted Peacock (drums) , Ryan Spong (bass guitar, vocals) and Roadhouse proprietor, Marty "Hot Lips" Verweel (trumpet). Recently, the band put the finishing touches on their debut CD, Live At The Wortley Roadhouse. Engineered and mastered by industry veteran Nick Blagona, Live At The Wortley captures all the energy and excitement the band generates whenever they perform their extensive repertoire of classic blues and original compositions. The Village Blues Band will showcase their new record at a CD Release on Sunday, October 26, 4-8:00 p.m. at (where else?) the Wortley Roadhouse. They will be joined by special guest Chuck Jackson from the Downchild Blues Band.
---
(Review) THE VILLAGE BLUES BAND . LIVE AT THE WORTLEY ROADHOUSE (INDIE): back
John Sharpe, Scene Magazine — October 23, 2008
With the wide range of exotic gear available to engineers today, it's a cinch that most studio recordings will sound virtually flawless. But it takes a special talent to capture a group's energy in a live setting. Well, that's exactly what industry veteran Nick Blagona has accomplished with LIve At The Wortley Roadhouse. Blagona who has worked with Tom Jones, The Bee Gees, The Police and more recently Alexisonfire and Protest The Hero, has produced a CD with a real "you are there" feel. Of course, it helps if you have a hot group to work and the Village Blues Band certainly are that. Over the course of many Sunday matinees at the Wortley Roadhouse, Ted Leonard (guitar/vocals) , Chris Murphy (saxophones/vocals) , Troy Neeb (saxophones) , Ted Peacock (drums) , Ryan Spong (bass/vocals) and Marty Verweel (trumpet) have honed the classic blues tunes and original compositions heard here to a fine edge. Impressive.

Performance A
Production A
---
Congratulations to Chris Murphy: back
Maple Blues Magazine, May 2008

Saxman Chris Murphy who's honking tenor sax drives the Maple Blues Band as well as the Jack De Keyzer Band and several other units has been honoured in his home town of London with the 2008 Jack Richardson Music Award for his work with his London outfit, The Village Blues Band. The six-piece band has been performing on Sundays at the Wortley Road House in London for the past 3 years. They are getting set to release a live CD in the coming months. In addition to Chris, the members of the band are some of London's busiest musicians: Ted Leonard, lead vocals and guitar, who has toured with the Maple Blues Band, Johnny Max Band, Pork Belly Futures, Paul Reddick and the Sidemen (Ted was a long-time member of the Juno award-winning band Fathead); Ryan Spong lead vocals and bass (also tours with the Chris Chown Band and Pleasure Shop); Ted Peacock on drums ( also leads his own band Soul Bender and has toured and recorded with Big Daddy G); Marty Verweel, Trumpet who has also been the leader of the band Soul Sausage for the past 30 years and Troy Neeb , tenor and alto saxophones who also performs with the jazz group Floating Point. For more information on The Jack Richardson Music Awards visit www.jrma.ca. For further information on Chris Murphy and the Village Blues Band go to www.chrismurphysax.com
---
Chris Murphy plays Aeolian Hall back
James Reaney - London Free Press, May 10, 2008
London sax player and singer Chris Murphy brings an all-star lineup to Aeolian Hall tonight for a trip down music's memory lane. "I'm know for doing electric blues and this is going to be acoustic jazz". The band includes his father, London Music Hall of Famer and clarinetist Phil Murphy. Before forming his on blues band in 1985, Chris Murphy often performed acoustic jazz with his quartet, the Forest City Jazz Band and the Phil Murphy Big Band. Pianist Grant Graham played with Chris Murphy's quartet in that era. Others in the band tonight include Chatham guitarist Tom Lockwood. Now, Chris Murphy tours with Canadian blues star Jack de Keyzer. Tickets are $12 in advance, $15 at the door of the 795 Dindas St hall. Call 519- 672-7950 Concert time is 8 p.m.
---
Scene Magazine back

Scene Magazine September 27, 2007
Londoner Chris Murphy has won numerous awards for his sax playing and has now added another feather to his musical fedora....movie star! You have to look quickly but Murphy plays Tonight Show saxophonist Tommy Newsom in the new Don Cheadle film, Talk To Me. The critically acclaimed biopic tells the story of Washington D.C. radio talk host and comedian Petey Green. To prepare for the roll Murphy had to grow some 60's appropriate sideburns. Unfortunately, his new movie star staus hasn't paid off with any phone calls from Angelina or Paris, but he did get to sit next to Martin Sheen at lunch.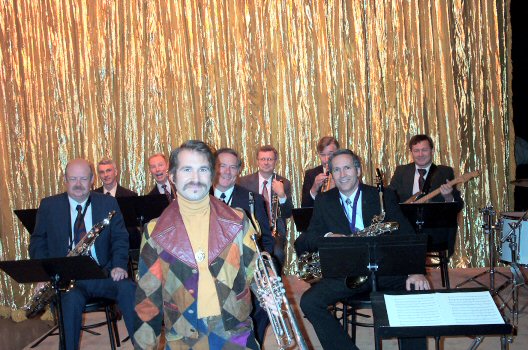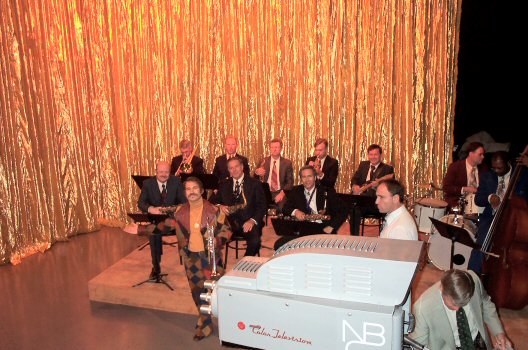 Elegant blues fest in vineyard setting back
Herman Goodden, Special to The London Free Press, August 17, 2006
When London saxophonist Chris Murphy isn't playing -- he led the horn section when Aretha Franklin played the John Labatt Centre and has worked with Natalie Cole and toured with the Temptations -- he dons his other hat as a talent co-ordinator.
For years Murphy booked the acts at Old Chicago's and for the last half-dozen summers he has arranged the playbill for one of the region's most elegant music festivals -- the Reds, Whites and Blues Festival held at a vineyard north of Sparta.
"This is Southwestern Ontario at its finest," Murphy says. "The vineyard at Quai du Vin is the most beautiful setting for a concert. We usually get about 1,100 people. People sit on the hill and bring their lunches."
The first act up is Harrison Kennedy's Acoustic Duo. Kennedy became quite famous in the '70s as lead vocalist with the Chairmen of the Board, who scored a hit on Motown with Give Me Just a Little More Time. In the Acoustic Duo, he teams up with another guitarist for a mix of Detroit soul, southern gospel and Latin shuffle.
Second on the bill is the legendary Alberta Adams, Detroit's queen of the blues, backed by R. J. Spangler and the Rhythm Rockers.
"Alberta was one of the first artists ever signed to Chess Records, which was the big Chicago blues label in the early days of electric blues," Murphy says. "She sang with the great Duke Ellington, who ran one of the most sophisticated of the big bands, and she also sang with T-Bone Walker, who was the first great blues musician to take up the electric guitar. She worked a lot around Detroit in the '40s with John Lee Hooker. I've toured with her before. She's amazing."
Murphy warns that Adams' lyrics deal with "some pretty raunchy, sexual innuendo kind of stuff that younger singers wouldn't have a chance of pulling off."
The third act is keyboardist and arranger Lance Anderson's Tribute to Ray Charles. Anderson has outfitted this show with two of the country's finest and most supple blues singers, John Mays and Shakura S'Adia. The audience can expect one of the most impressive repertoires in all of contemporary music.
To close out in raucous style, Murphy chose the Tom Lockwood Band from Chatham. "They put on a great show. They're more of a traditional Canadian bar band with a wonderful mix of blues and R and B."

---
Happy Guy Gets Happier back

Jamie Vandermoer, London This Week, Nov 30, 2005

I've often called London sax player Chris Murphy the hardest workin' guy in blues.

A good friend for years, I still can't keep track of his schedule. Whether it's fronting his own band or backing up somebody else, Murphy's datebook is busier than a Vegas hooker during convention season. So it's no wonder that he was once again nominated for a Maple Blues Award.

This marks the sixth time Murphy has been on the Maple Blues ballot. (The Maple Blues Awards are presented by the Toronto Blues Society, the largest blues association in Canada.)

So what does this mean for you? Well, do the man a favour and head to www.mapleblues.ca and vote for the guy, wouldja? If you've ever seen a local blues band you've probably seen Murphy in his trademark hat and red boots belting out the tunes with the abandon of a dizzy 12-year old.

And while you're at it , pick up a copy of his CD, I'm a Happy Guy, on the Speakeasy label. Now that's being a pal.
---
Watson, Murphy among blues nominees back
THE LONDON FREE PRESS - Nov 17, 2005

Former London singer Dawn Tyler Watson and London sax player Chris Murphy are among Maple Blues nominees. Watson, based in Quebec, is nominated in the entertainer of the year and female vocalist categories. Murphy is up for the horn player award. Garrett Mason, son of Canadian blues legend Dutch Mason, leads the nominees with nods in six categories. Online fan voting, via www.mapleblues.ca, determines the winners to be announced at a Toronto gala Jan 16. The Maple Blues are Canada's national award program that promotes and recognizes outstanding achievement in blues music.

---
LONDON'S TOP 10 HIT LIST JUST SINGS back
James Reaney The London Free Press - Sunday December 26,2004
The 2004 London hit parade can stand with any years's best from the Forest City.

The personal Top 10 includes sparkling debuts, always vital veterans and performers with international reputations.

My thanks to all the London music community folks who sent along the dozens of fine CD's. It was a pleasure listening to them and trying to narrow the sonic bounty down to this list.

The 10 that strike my soul and ears as the best are listed by artist, title and where appropriate, label. Most of them are indie efforts and should be available at local independent retailers.
CHRIS MURPHY: I'M A HAPPY GUY (Speakeasy)
The London sax player and vocalist has a fine blues party going. The guest list includes guitarists Jack de Keyzer and Terry Lee; Chris' dad, Phil Murphy on alto sax and London singer Denise Pelley. Another plus in keeping the Happy Guy on the move is having legendary producer Jack Richardson at the party controls.
HAPPY GUYS: Chris Murphy's I'm a Happy Guy makes James Reaney a happy reviewer of London's best releases in 2004
---
(Review) Blues Freepress Online - Nov 2004 back
http://www.bluesfreepress.org/Reviews.htm
Tim Holek - Freelance Journalist/Photographer
www.timholekblues.ca

Chris Murphy
"I'm A Happy Guy"
Speakeasy Records 3007
London Ontario's Chris Murphy has kept the Blues beat alive for more than 20 years. This acclaimed saxophonist was the first recipient of the Jimmy Lewis Lifetime Of Blues Award 2003. Chris is a Bluesman at heart but he blows through the 12 bar barrier on this active 60 minute set. On it, you also get big band swing, funk, Latin rock & smooth jazz. Murphy won't be remembered for his bland vocals so he wisely includes 9 exciting instrumentals & 2 powerful guest vocalists. Janalynne Rogers' sassy & sexy vocals on "Do I Want You Back" should be burning up the pop/soul charts. The 15 track disc (four were penned by Chris) shows the extraordinary talent of the 17 musicians involved. Many of them are Canada's best Blues artists. In particular, Jack de Keyzer & Terry Lee's guitars are stylish & Michael Fonfara's keys are mesmerizing. Ultimately, the CD is about Murphy & his army of horns. The formulas for these songs tend to repeat but what's wrong in sticking with a good thing? Feeling stressed & needing some reflexology? Forget that . . . with this relaxing music, you are guaranteed to be happy.
---
(Review) Blues Review Magazine - Nov 2004 back
Blues Bites - Tom Hyslop - Salem WV.
Chris Murphy
"I'm A Happy Guy"
Speakeasy Records 3007
London Ontario, saxophonist Chris Murphy leads a brassy big band on the invigorating I'm a Happy Guy (Speakeasy 3007). Bill Heid's "Saxman" jumps hard courtesy of the horn charts and Michael Fonfara's piano. "Picante Blues" runs Junior Walker's "Cleo's Mood" through a slasa wash; and guest vocalist Jannalynne Rogers' "Do I Want You Back" gives the set an intensely dramatic ballad. Among the covers, "Soulful Strut" gets a smooth treatment and Ace Cannon's "Tuff" lets Murphy and Fonfara (on B-3) show off excellent phrasing and tone. Though the music is excellent, the lead guitar tones fail to cut through due to rock-style distortion ("Soulful Strut" and "Blues in the Closet" provide wonderful exceptions), and the recording often sounds too modern and in-your-face to suit its classic grooves.

---
London sax player gets blues nod
back
London Free Press - Nov 2004
Once again, sax player Chris Murphy carries London's hopes into the Maple Blues Awards. Murphy has been nominated for the fifth time in the best horn player category, which includes sax. The nominations were released yesterday.

The eighth awards gala will be held Jan. 17 at Toronto's Phoenix Concert Theatre.

Murphy is sure to be at the ceremony as a returning member of the Maple Blues Revue, an all-star outfit that plays at the awards each year.

Former Londoner Lance Anderson is up for best piano/keyboard player and Toronto-based band Fathead, which includes guitarist Teddy Leonard, is nominated as best electric act.
Entertainer of the year nominees are David Gogo, Jack deKeyzer (in whose band Murphy plays), Matt Minglewood and Dawn Tyler Watson, another former Londoner.

The winners will be chosen by fans through online voting at www.mapleblues.ca until Dec 15.

---
Jack de Keyzer's blues love affair back
Scene Magazine Sept 30, 2004 - Richard Moule
(starting at paragraph #12)
While 6 String Lover is a powerhouse record fuelled by de Keyzer's impeccable virtuosity, it only hints at his smoking live show. A recent addition to his touring band is well-know forest City saxophonist/promoter Chris Murphy.
"At the beginning of the summer I asked Chris if he would be interested in doing all the dates with us and luckily for me, he said, "Yes". He's been such an amazing asset to the band and is such a consummate musician. He' really into a lot of the same music as I am. Yeah, I think he's one of the top sax player in Canada." (quote from Jack de Keyzer)
---
John's Blues Picks - May 2004 back
Maple Blues Magazine - John Valentine
Chris Murphy I'm a Happy Guy Speakeasy 3007
This year's Maple Blues Awards Band featured London's Chris Murphy on his tenor sax and now his second CD is available for your consideration. Produced by the legendary Jack Richardson, I'm a Happy Guy features a who's who of Ontario players supporting his usual blend of masterful, funky, jazzy instrumentals and well-chosen vocals. A sort-of basic band (this CD appears to have been assembled from a few sessions) is Jack de Keyzer and Terry Lee on guitars, Gary Kendall on bass and Darcy Ura or Jim Casson on drums. "Hit It" and "No Junk, Just Fonk" are the fine opening instrumentals, followed by an instrumental version of Elmore James' "Talk To Me Baby" with Terry Lee's guitar taking the lead. London's Denise Pelley gets the vocal honours on Bill Heid's "Saxman". I've heard her sing some jazz but on this one she shows she should sing much more blues. The second half of the program slows things down a bit with some 50's style R&B sax-led ballads. In the past couple of months, three CD's with sax players as leaders have graced my player and I must say it's a nice change.
---
Chris Murphy wails on the sax at the CD release show for his new album, I'm A Happy Guy, at Downtown Kathy Browns last Friday night. More than 300 people turned out for the show.
Sax player couldn't be happier back
Jamie Vandermoer, London This Week, April 21, 2004
Chris Murphy has good reason to be happy. His new CD, I'm a Happy Guy, was just released last week on Speakeasy Records. Meanwhile, his show Friday night at Downtown Kathy Brown's on Dundas Street played to a capacity crowd.

I'm a Happy Guy is Murphy's second solo CD. It has the sax man working with many guest performers including London's Janalynne Rogers and Denise Pelley. Guitarist Terry Lee also performs on the album as does Juno award winner Jack DeKeyzer.

Often said to be the hardest-working musician in the city, Murphy's show kicked off a promotional tourfor I'm a Happy Guy. It will have him on the road almost nightly between now and July, however that is not much different from his regular routine. Murphy is usually on the road playing shows about 200 nights a year.

For much of the 1990's, Murphy played with the Old Chicago Blues Band then branched off on his own, touring solo or with other accomplished musicians like Jack DeKeyzer. In all 17 different musicians lend a hand in the songs on Happy Guy. Legendary producer Jack Richardson, who produced many Guess Who albums, worked as producer on the recording.

Murphy visits his old stomping ground this weekend playing with the current Old Chicago house band Friday and Saturday.
---
Scene Magazine back
Scene Magazine April 15, 2004
John "The Razor" Sharpe
Chris Murphy · I'm A Happy Guy. (Speakeasy)
With a big sax sound reminiscent of Stanley Turrentine. Gene Ammons and Grover Washington, Chris Murphy may be the most versatile, hardest workin' musician in London. Always on the go, Murphy is constantly touring, whether with his own group or as a sideman for others. I'm A Happy Guy, his second release as a solo artist, contains 15 tracks of funky R&B and saxophone-driven party music. Produced by the legendary Jack Richardson, I'm A Happy Guy includes contributions from such noted sidemen as guitarists Terry Lee and Jack DeKeyzer, keyboard veteran Michael Fonfara and bassist Gary Kendall. And let's not forget the work of fine London artists like Denise Pelley, Don DiCarlo, Janalynne Rogers, Marty Verweel and Murphy's dad, Phil. With musical friends like this, it's no wonder Murphy's a happy guy.
- John Sharpe B

Editor's Note: I'm A Happy Guy will be released on April 16, 9:00 p.m. at Downtown Kathy Brown 's. Cover: $5.

---
London Free Press back
Blues Award Honours Murphy
The London Free Press - Sunday January 26, 2003
London sax player Chris Murphy is the first winner of the Jimmy Lewis life-time of blues award.

The honour was announced as part of the Firehall Reunion concert and celebration at Centennial Hall last night.

Murphy has been a strong voice for the London blues scene, leading his own band and sitting in with other groups. He's also heard on CD's including his own album, Blowin' the Horn, and on CHRW FM radio, where he co-hosts, "The Blues Never Die" a show devoted to blues.

The award is named for Jimmy Lewis, a bass player and longtime member of the London blues scene who died last year.
---
Big City Blues Magazine back
CHRIS MURPHY BLOWIN' THE HORN SPEAKEASY #3006
By Mark A. Cole, Big City Blues Magazine, Detroit MI 2000
The lively upbeat character of Chris Murphy's music will kick ya in the rear and getcha goin'! Blowin' The Horn is a contemporary jazz/blues collection of smart high-keyed, uptempoed selections. Opening with his own, "Lost in the Shuffle" and moving into Bill Heid's "Blowin' The Horn", Murphy takes us on a horn-led, jump excursion. It leads through funkland with stuff like War's "Lowrider" and Maurice J. Vaughn's "Everything I Do Has Got To Be Funky" and then into contempo-jazz riffs on "Bluesona Slonite" and his closing "Orange Brandy".
This Canadian crew is cookin' throughout: Murphy' alto, tenor, and baritone sax's and his substantially ranged vocals are backed by two groups. The first includes Gary Kendall on bass, Michael Fonfara on keys, Steve Grisbrook on guitars, Jim Casson on drums and Phil Murphy's help on alto sax on one tune. The vocals of Richard Knight, Kenn Allison, and Chuck Jackson are also heard. The second group included Doug Varty on guitar and keyboards, John Knapp on drums, Colin Stewart on bass, and Chris Murphy on sax and organ. Geoff Dahl helped on "Lowrider" with bass and vox, also.
Saxophone blues and jazz of highest caliber. Take horns to heart. Cleverly interchanged leads and great melodies. These north-of the border blues have what it takes. A brilliant production by Kendall and Fonfara with over fifty minutes of illuminous material.
---
The Communication Centre back
Blowin' The Horn - Chris Murphy
Speakeasy CDs - 1999 - 12 tracks
Review Written: February 18, 2000

With an agricultural economy which has evolved to become centred around a respected university community and major financial head offices, London, Ontario, Canada may not be where most people would expect to nurture hard-edged, rootsy blues. Yet, London is home to a number of Canada's finest blues artists. Of these, sax man Chris Murphy is a prime example.

On Blowin' The Horn, Murphy's blues has a decidedly big-band sound. The sound rambles through a range of styles, from true electric blues to the solid R & B sound that Alan Freed dubbed Rock and Roll to sixties rock and even something approaching forty's swing. What holds it all together is a driving energy. If it is nothing else, this is music that makes one want to dance.

When he's not wailing on the sax, Murphy sings. In this, as in the music backing him, Murphy demonstrates a versatility that is refreshing. Sometimes, as in "Let's Straighten It Out," Murphy's voice and style is reminiscent of Robert Cray, bringing an authentic blues sound to the music. At other times, he evokes the sound of a variety of blues styles. Other songs, like "Last Call for Alcohol" are hard-driving Rock and Roll. In fact, the title song sounds more like the kind of Rock and Roll made famous by Bill Haley and his Comets in the early fifties.

With some singers, especially those just starting out, this diversity of voice and singing style might be seen as problematic. The listener might consider that the singer had not yet found his or her distinctive voice. In Murphy's release, though, he shows a confidence in his singing that suggests that rather than seeking his own voice, he's simply honouring influences. Chris Murphy is a chameleon of the blues, changing his hue to suit the song being sung.

This release, however, is not about singing and not about lyrics. It's all about the groove. A rarity among contemporary releases, Blowin' the Horn is built around the instrumental talents of the players. Five of the songs have no singing at all. The rest feature long instrumental sections that allow the musicians to jam.

The finishing touch is put to many of these songs by Michael Fonfara on keys (Hammond organ and piano), providing the perfect complement to Murphy's sax work.

The overall consistency of this release is a credit to Chris Murphy and his producers. The cuts on Blowin' The Horn were recorded in four studios. Often, such an arrangement will lead to a mixed and inconsistent sound, yet the producers of Blowin' The Horn have managed to avoid this pitfall, creating a product where all the songs seem to have been made for each other.

The dozen songs on this release, many of them quite long, provide excellent value for the money. But it gets better. This is a baker's dozen, with a great thirteenth cut, a lively rendering of "I Ain't Drunk," tucked in at the end of the set.

---
Real Blues Magazine back
Real Blues, Feb/Mar 1999, Victoria BC.
By Tim Holek
A new blues club called Boomerz has opened in London and they are booking national touring acts from Canada and the U.S. Canada's blues band, Downchild, hosted the grand opening before a packed house. Our good friend Chris Murphy is booking the entertainment at the club so we can be sure to catch the best in the blues. Murhpy's debut CD "Blowin the Horn" was released on January 25th. It was produced by Michael Fonfara and Gary Kendall both of Downchild. I was fortunated to get an advance copy and let me tell you the CD is loaded with a great mix of blues, funk and smooth jazz. Chris Murphy is, of course, the former sax-man and leader of the Old Chicago Blues Band. They were the house band at the Old Chicago Speakeasy and performed 3 shows a night, 5 nights a week for more than 5 years. During that time the band released 2 CD's. Since leaving the band in 1998, Chris has the touring the U.S. and Canada as the bandleader for Chicago Pete. Murphy proudly admits that Pete is his mentor. In fact, Chicago Pete's "The Blues Is Alright" CD was produced by Chris and was released on his independent Speakeasy label. Murphy's solo debut CD follows the rech tradition of "party blues" bands such as Powder Blues, David Wilcox and Downchild. This is the type of blues that makes you want to get up and dance. You simply can't listen to this CD without some part of your body starting to move and keep to the beat of the music. The tune "Flat Feet" is a prime example. I really enjoy his version of Bill Heid's "Blowin the Horn." "Juice for Junior" is anothe little ditty with a great groove. I'm sure the humorous "Last Call For Alcohol" is sure to be a crowd-pleaser. The backing band is superb (most notably Michael Fonfara on keys) and they get to have their share of the Spotlight too. Chris brought his Uptown Blooze band to the Parkview Tavern in Chatham for a pre-release party. This version of Uptown Blooze consisted of Tim Tyler (drums), Doug Eyre (bass and vocals) and Terry Lee (guitar). The set-lists include blues standards but grew larger and louder as the band ripped through "Everything I Do Has Got To Be Funky,""Honey Bee" and the CD's title track. Chris' sax solo's and Terry Lee's outstanding guitar work on his Gibson ES-335 stole the show. For more info, check out the Speakeasy CD website. It can be found at www.execulink.com/~speakeasy.

---
Scene Magazine
back
Scene Magazine January 14,1999
John "The Razor" Sharpe
Chris Murphy plays a mean Sax and has earned a reputation as a crowd-pleaser. His debut CD Blowin' The Horn includes swinging blues, funky R&B dance grooves and humorous barroom party tunes. The title track features hot saxophone solo's by both Chris and his father Phil Murphy, who recently placed on the Mayor's Honour list for 1998.
---
Crescendo
back
From the President's Pen by Paul Sharpe Crescendo, London Musicians' Association, Feb /99
Another well known Murphy family member is making his own waves. Chris Murphy has just released his debut solo CD titled "Blowin' The Horn". This fine effort includes musical support from area musicians Colin Stewart, Doug Varty, John Knapp, Kenn Allison, Geoff Dahl, and Phil Murphy; as well as a number of prominent Toronto based musicians. Chris has been a member of our Local since 1982 and like his father before him, has served as a member of the Executive Board.
---
Maple Blues Magazine back
New Releases by John Valenteyn Toronto Blues Society Maple Blues Magazine, Feb /99
Chris Murphy has been a mainstay of the London blues scene for quite a while now - his Speakeasy Productions encompasses booking, promotion, management and recordings; he plays tenor sax and keyboards with The Old Chicago Blues Band, taking the occasional vocal and he also co-hosts a popular local blues radio show. His label has CD's by Chicago Pete, two by the band and one from up & coming guitar ace Chris Chown. With Blowin' The Horn, he steps out front. Produced by Gary Kendall (also on bass) & Michael Fonfara (also featured on B3), the album will be a delight for fans of '50's honking R&B. The highlights for me are the instrumentals - "Lost In The Shuffle", "Juice For Junior" (for Jr. Walker), "Happy Guy" (with Fonfara on piano), the wonderfully-named "Bluesona Slonite" with music (and bass solo) by Gary Kendall and "Orange Brandy" with only Murphy on tenor & Fonfara on piano. In addition to Fonfara & Kendall, the band includes Steve Grisbrook on guitar and Jim Casson on drums. Three of the remaining songs are from Old Chicago Blues Band sessions, with Richard Knight & Doug Varty on vocals, although the liner notes are a little confusing here; and there are 13 songs, not 12.
---
SINGING THE BLUES A GOOD GIG IN LONDON back
MANY LOCAL MUSICIANS ARE MAKING A LINING PLAYING FOR LOYAL FANS AROUND THE CITY
IAN GILLESPIE LONDON FREE PRESS ARTS & ENTERTAINMENT REPORTER
AUGUST 12, 1995
Chris Murphy is one of many local musicians who has managed to make his living from the blues. The son of local jazz musician Phil, Murphy pays saxophone, keyboards and sings with the Old Chicago Blues Band.
"Maybe the local (blues) scene exists because the musicians just willed it," says Murphy. "A lot of us didn't give up.
"I think it's stronger now than it's ever been. And there were never as many guys living in London making a living."
Murphy reels off a list of local blues players, including Tim Woodcock, Doug Varty, Douglas Watson and the Hot Flames, Margaret Stowe, The Untouchables, Kenn Allison, Ben Shane, Chris Trowell, Larry Smith and Al Carter.
"For me, it's really honest music. If you play the music honestly, then it's correct. So it's really open to your individual way of doing it."
And it examines everyday issues such as love and money (or lack therof), but the blues isn't necessarily melancholy.
A good example, says Murphy is when B.B. King sings "Nobody loves me but my mother." That's the heavy statement, which is then immediately undercut by a light-hearted lampoon: "And she could be jiving too."
And unlike alternative rock, blues isn't played only by skinny 19-year-olds. And the fans are older,too.

"Sometimes you stand on stage and you'll see a 50-year-old woman dancing
beside a 22-year-old," says Murphy. "It doesn't appeal to everybody, but the people who like really like it."

---
Living the Blues
back
The blues started in Chicago but in London they live through Chris Murphy .
Playing the Blues by Wayne Glidden The Forest City News Oct/94
The blues were born in Chicago, and are living on in London at the Old Chicago Speakeasy. Don't be dissuaded by its description as a melancholic derivative of black folk music. It's upbeat, energetic, and it's easy to tell that the boys on stage are loving it. Doug Varty on guitar, Colin Stewart on bass, John Knapp on drums, and Chris Murphy blowing the sax, while occasionally tickling the electronic ivories.
Murphy's been playing for 22 years, previously hitting the road for six years with the Uptown Blooze. A one night stand at Old Chicago has turned into a 27 month (and counting) gig as the house band.
"We like it here and they like us", says Murphy, as evidenced by the raucous packed house one night last week. London is a very good blues town, and the style is the "biggest it's ever been" says Murphy. Last week, the feature was Douglas Watson, a blues singer from Chicago (right now he and the band are kicking up a pulsating tune by the Reverend Al Green). Will they wear out their welcome? "Probably," says Murphy, "but the line-ups are bigger than ever".
Other former Murphy bands include the Forest City Blues Band and Soul Sausage. He's happy to be settled down in his native London, after years of setting up, tearing down, and travelling on the road.
"(Touring) takes up a lot of time. A lot of driving, setting up, tearing down," he says. "(We can) learn a lot of songs here."
Finding gigs has never been a problem.
"I've been really lucky. I've always played and always played a lot," he says. "Every band I got in worked a lot. They always want us back."
While Murphy is courteous and forthcoming in an interview, the litmus test of his makeup is best seen on the stage, with the bright lights gleaming, and the floor speakers thundering. Inhibitions are scattered, and he plays the room with song intros, and a touch of vocals, but mostly with his wailing sax, which, as usual in blues, is almost totally improvised. "Everything's fun," he says, a point obvious from watching him on stage.
There seems to be a market for the live version of their music. Chris is making a living doing what he loves and what he does best. London's where it's at for him.
"I'm only going to leave when nothing's happening, and something's always happening," say Chris.
For proof, drop by the Old Chicago Speakeasy almost any night, and catch he and his bandmates in the act. You may just become hooked on the blues.
Back to the top
---
Murphy's music
back
Playing the blues is such a natural fit for Chris Murphy that it's almost as if the music picked him, rather than the other way around
By IAN GILLESPIE, London Free Press
It was 1971. Chris Murphy was 17 years old. And the London musician was doing just about the unhippest, uncoolest, downright dorkiest thing he could possibly imagine -- playing swing tunes with a bunch of over-the-hill guys for an audience of 50- and 60-year-olds.

"When I was playing swing music, I wished I was playing in a band that was doing Chicago Transit Authority or Blood Sweat and Tears and playing for people my own age," recalls Murphy. Then he laughs.

"Now, the swing thing is hip!"

Murphy's early dabbling with something that seemed to epitomize the height of unhipness has paid off. These days, the son of longtime London bandleader Phil Murphy has established himself as one of the top blues blowers in Canada.

He has just released a new album (Blowin' the Horn), he runs his own record label (Speakeasy CDs), he performs regularly on a blues circuit that includes London, Toronto and Detroit, he co-hosts a regular radio show (Blues Never Die on CHRW 94.7 FM) and his resume boasts production credits for albums by artists such as Chicago Pete and local blues guitar prodigy Chris Chown.

And all of it started when, as a teenager, Murphy traded his clarinet for a saxophone.

"When guys in the third-string bands needed a sax player, they'd give me a chance because of who my dad was," says Murphy. "It's sort of like if you were Wayne Gretzky's kid and somebody needed somebody to play junior C hockey; they'd say, 'Give that kid a chance.'

"The first time I went out and played in a band, they gave me $65," recalls Murphy. "I was a Grade 12 student, I was five feet tall and weighed 90 pounds and all my buddies were working in grocery stores for 90 cents an hour. Then they asked me to come back the next week for Friday and Saturday and I came home with $130.

"And then I started thinking, 'Man, this beats working.' So I started working pretty hard at the music."

After cutting his teeth with some local swing bands, Murphy played with Soul Sausage and the Forest City Jazz Band before forming Uptown Blooze in 1986. Until about 18 months ago, he led the house band at Old Chicago's Speakeasy and Grill.

A number of London nightclubs feature blues bands, including Other Side, Clydes, Suz Blues House, Refried Dreams, Wortley Roadhouse and Boomerz.

Murphy says the preponderance of London blues clubs -- a tradition that extends back to Brian Mortimer's commitment to the genre at the Old Firehall and Leadbelly's -- has helped raised the bar when it comes to the technical skills of local blues musicians.

"There were all these gigs for years, where London musicians would back up American singers," Murphy says. "When I was at Old Chicago's, I backed up 50 different singers and they were all good. And you learn stuff from all of them.

"It makes you quite a different musician than if you'd been living in Quebec City and played in one band with the same four guys, maybe doing the same songs for five or six years."

Murphy also credits his father -- now 70 and recently honoured with a Mayor's Award for his contribution to London's arts scene -- with imparting some lasting lessons about how to survive as a professional musician.

"He taught me that what I was involved in was a profession -- it

wasn't just a hobby," says Murphy. "And that if I acted professionally, people would pay me for my time and I could actually end up doing okay.

"And just learning that the music was more important than the party, as far as having a career goes. If you're Eric Clapton or Stevie Ray Vaughan, you can put the party first and it's going to work out for you. But those guys are one in a million. For most of the people in the industry, it's all about showing up on time and doing what's expected of you."

A full-time professional musician for 21 years who now supports his wife and their seven-year-old daughter with his horn, Murphy has clearly been doing what's expected -- and more. And most of the time, what he's been doing is the blues.

Why?

"I just always liked that kind of music and I just always played that way. I'm not sure I had that much say about it. To me, it's sort of like, some people like pepper on their mashed potatoes. Why would that be?

"The blues just always moved me and lucky for me, what I liked was also what I was good at."

Murphy holds high hopes for his new, nationally distributed album. Recorded in London, Stratford and Toronto, Blowin' the Horn features a mix of original and traditional tunes and was co-produced by keyboardist Michael Fonfara, who has played with Lou Reed, Foreigner and, more recently, Downchild Blues Band.

But in the end, it all comes down to a musical celebration of everyday highs and lows.

"(Blues) is about how you feel and how you're expressing yourself," Murphy says. "It's going to tell me a story and it's not the same every night."

And no -- the blues ain't necessarily sad.

"I think it's about release," he says.


---
Get Outta the House back

The Halifax Daily News ,Friday November 23, 1990
by Sandy MacDonald

If you want kicking blues and R & B, the Uptown Blooze band from London, Ont., are at Cheers. Tenor sax-keyboard player Chris Murphy leads the foursome through three sets of frat house favorites.

Guitarist Iian McNally trades solos with Murphy, while brothers Geoff and Chris Dahl carry the rhythm section and lead vocals.

Uptown Blooze's set list includes party standarsds like "Flip Flop Fly," "Soul Man" and a bunch of David Wilcox tunes. McNally pulls out a tasty version of Freddie King's instrumental signature "Hideaway."


---
Blooze Band doin' the blues right back

University of Ottawa, March 1989
by Jennifer Quaid

"For the next sixty minutes, we're going to show you just how much fun the Blues can be!" exclaimed Uptown Blooze Band saxophonist, Chris Murphy. And that is exactly what he and his energetic group from London Ontario did. Only lunch-time inhibitions kept people from dancing to the beat of such classics as "Doin' It Right" and "Tequila", and only a diehard fan of the original tunes would have complained upon hearing the sometimes refreshingly new Blooze renditions. Says lead vocalist and bassist, Mitch tyler, "We try to play tunes that people like to hear - classic rock and roll, and blues... but we play covers that still allow us a certain amount of interpretaion."

Whatever they decided - it worked. The band tours across Ontario (wherever they pay us") including gigs at over 25 college and university campuses. The four man band formed 1985, and now, following a few changes in guitarists, is on its way to developing more originals, and creating its own sound. The emphasis, for now, though, remains on touring, and playing people want to hear.

The show began with a loud, pulsing rendition of "Doin' It Right", followed up by an equally impressive "Gimme Some Lovin' " , during which the first signs of repressed dance fever were evident amoung those in the audience - feet tapping, head and shoulders swaying from side to side.... Great sound in spite of the Agora, was complemented by solid vocals, with even some harmonics, and exceptional musicianship. Peiodic attempts at stage antics, such as swaying from side to side in unison, though elementary, served to indicate what a good time these guys have while performing, thus enhancing their appeal. Audience response was noticeable - audible clapping, for instance.


---
Bandit blues steal the show back

The Gazette (UWO) , Tuesday , December 1 , 1987
by Iain Mackinnon

Chris Murphy belted out raw downtown deviations on the melodies with the Uptown Blooze band last Saturday night for a full house at the Firehall.

Uptown Blooze is a London band trying to take it one step further. And if the band's improvement over the last year and its performance at the Firehal last Saturday are any indication, the future looks bright.

The musicians - Mitch Tyler on bass, Chris Murphy on tenor sax and keyboards, Larry Smith on guitar, and Tim Tyler on drums - play with a gretty, raw-edged style and borrow from rhythm and blues, Motown and rock.

As a result of playing steadily in clubs around London and the surrounding area the band doesn't find much time for rehearsing original songs so it sticks to popular cover tunes. And this is what the musicians do best.

Murphy's soulful sax sound is well-suited to songs like "Pink Cadillac" and the Uptown Blooze's playful version of "Caledonia". He thinks about phrasing while playing catchy riffs and licks and shows good range on an instrumental version of "When a Man Loves a Woman."

Mitch Tyler, a Western masters music student (Murphy has also taken music here and at Berklee), is restricted to walking blues bass lines but manages to also play some interesting rhythms. Fortunately for the rest of the band, his singing, which is slightly reminiscent of Blood Sweat and Tears' David Clayton Thomas, doesn't cause his bass lines to drag down the music.

Both of the other two members also sing. Tim Tyler (Mitch's younger brother) keeps a consistent beat on kit but doesn't show much imagination in his fills. He did, however do a respectable job of covering Mitch Mitchell's drum patterns in "Fire." Smith plays in the bluesiest style. He bends notes and derives solos from blues scales that are clean if not rhythmically exciting. His tight, unison playing in Lynyrd Skynyrd's "I Know a Little" highlighted his style perfectly. The band seemed to be in its element with this type of southern rock songs.

Murphy's version of ZZ Top's "La Grange" was rousing, foot-stomping, table-dancing, burn-the-house-down rock and roll. We'll have to see if the band can do the same thing with Christmas carols when the band plays the Centrespot this Friday at noon.



Back home